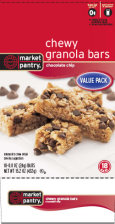 Leclerc Foods, Montgomery, PA has initiated a limited voluntary recall of a single lot of Market Pantry Chocolate Chip Chewy Granola Bar packages with UPC Code 85239 20124 and a "Best By" date of 18JAN2010. The recall was initiated after it was discovered that product was mispackaged and the retail units may also contain (which are OK-D- certified) and possibly S'more bars (which are NOT KOSHER). As a result the ingredient statement on the retail package does not include peanuts as an ingredient.
Consumers are advised not to consume these items and may return the items to Target for a refund or they may call Target Guest Relations at 1-800-316-6151. Consumers with additional questions on the recall may contact Leclerc Foods Customer Service at 1-800-463-6144, Monday to Friday between 8:30am and 4:30pm EDT.
The product with Best By 18 JAN 2010 has been recalled from all Target stores and is no longer available at retail. If you see this product with Best By 18 JAN 2010 in the market, please call the OK office at 718-756-7500.