K A S H R U T . C O M©
The Premier Kosher Information Source on the Internet
---
HOME | PASSOVER | CONSUMER | COMMERCIAL | TRAVEL | ZEMANIM | LINKS | ARTICLES | RECIPES | HUMOR | E-MAIL LIST

---
Consumer Kashrut Alerts
The following kashrus alert is from the Kof-K on May 15, 2009 .


Tofutti has announced a limited precautionary recall of Vanilla Tofutti Cuties due to possible trace amounts of dairy. These traces if they exist were inadvertent and Batul L'Halachah This product was produced in one of their plants during July 2008 and can be identified by plant # 360-300. Anyone that has any of this product should call Tofutti at 908-272-2400 for a refund. All Tofutti products including Tofutti Cuties continue to be certified Kof-K Parve. Additional safeguards have been put in place to avoid any future inadvertent errors.

The following milk allergy alert is from the FDA on May 13, 2009 .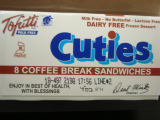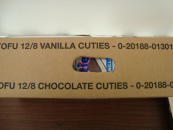 Tofutti Brands Inc. has completed a precautionary investigative recall of 12 pallets of its 8-Pack VANILLA CUTIES mini sandwich frozen dessert novelties (UPC 0-20188-01301-2) due to possible trace level milk contamination reported for a limited number of lots shipped which were produced in July of 2008. VANILLA CUTIES are labeled as Milk Free and persons who have an allergy or severe sensitivity or intolerance to Dairy products run the risk of serious or life-threatening injury if they consume products with milk ingredients. From early March to early April 2009 Tofutti Brands received telephone reports from 6 consumers who experienced skin rash symptoms after eating VANILLA CUTIES produced at a minor production facility during 3 days in July of 2008. No illness or serious injury has been reported and no further reports have been received. The suspect product in question was identified as having been produced at only this one minor facility and the 12 pallets shipped from the suspect lots have been recalled. The bulk of these 12 pallets were recalled from the New York City metro area as well as from some distributed to the Midwest, New England, the Mid Atlantic Region and California. Investigation and reports from Distributors and store visits indicate that none of the suspect product remains in distribution and it is not currently being offered for sale.
The suspect product in the above 12 pallets is identified by the labeled Manufacturing facility code 360-300 which will appear on one of the two end flaps of the box of the VANILLA CUTIES. Consumers who may have purchased VANILLA CUTIES bearing this code are urged to return them to the place of purchase for full refund. This recall does not involve any of the Company's vanilla or other flavored TOFUTTI CUTIES manufactured at its other facility. Consumers with questions may contact the Company at 908-272-2400, Monday-Friday, from 9:00AM-5:00PM EST.
Ed. note: According to the Kof-K, the recalled products are halachically pareve and contain about 10 ppm milk.
The information posted is from secondary sources. We cannot take responsibility for the accuracy of the information.
Copyright © kashrut.com. Permission is granted to reprint these alerts in hardcopy print media if kashrut.com is credited as the source of the information.
כל האומר דבר בשם אומרו, מביא גאלה לעולם אבות ו"ו