K A S H R U T . C O M©
The Premier Kosher Information Source on the Internet
---
HOME | PASSOVER | CONSUMER | COMMERCIAL | TRAVEL | ZEMANIM | LINKS | ARTICLES | RECIPES | HUMOR | E-MAIL LIST

---
Consumer Kashrut Alerts
The following allergy alert is from the FDA dated July 10, 2009.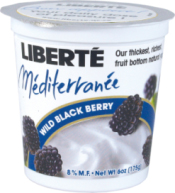 Liberté Brand Products, St Hubert, Quebec, Canada announced that it is recalling all Liberté Méditerranée Wild Blackberry Yogourt 6 oz code dated Sept 02 distributed in the USA because it may contain undeclared walnuts and plums. Liberté Méditerranée Wild Blackberry yogourt was distributed nationwide. The product is packaged in a 6oz retail plastic container with the expiry code date of September 02 printed on the foil lid. The UPC Bar code is 0 65684 65434 5. Liberté initiated the recall on August 11th 2009, when the company received an email from a consumer that found that containers labelled as Liberté Wild Blackberry yogourt actually contained the Liberté Méditerranée Plum and Walnut fruit preparation. Notwithstanding our internal quality safeguards, the Plum and Walnut filling was inadvertently put into the Wild Blackberry containers for some subset of this production run. The company has notified its distributors and retailers where the product was distributed and has asked that the products be removed from the shelves. Consumers who have Liberté Méditerranée Wild BlackBerry Yogourt 6oz should destroy the product and contact Liberté at 1-888-340-9306 x 0 (Monday-Friday 8am-5pm EST) or via email at info@liberte.ca for a full refund.
The information posted is from secondary sources. We cannot take responsibility for the accuracy of the information.
Copyright © kashrut.com. Permission is granted to reprint these alerts in hardcopy print media if kashrut.com is credited as the source of the information.
כל האומר דבר בשם אומרו, מביא גאלה לעולם אבות ו"ו