K A S H R U T . C O M©
The Premier Kosher Information Source on the Internet
---
HOME | PASSOVER | CONSUMER | COMMERCIAL | TRAVEL | ZEMANIM | LINKS | ARTICLES | RECIPES | HUMOR | E-MAIL LIST

---
Consumer Kashrut Alerts
The following Canadian health alert is from the CFIA on December 11, 2009.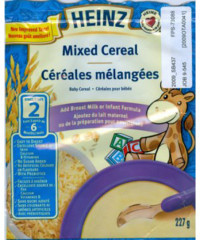 The Canadian Food Inspection Agency (CFIA) and Heinz Canada are warning the public not to consume the Heinz Mixed Cereal for babies described below as it may contain elevated levels of Ochratoxin A (OTA). The following product is affected by this alert: Heinz Mixed Cereal, a Baby Cereal, Stage 2, From 6 Months, 227 g, UPC 0 57000 02516 8
Codes: BB/MA 10 DE 26 and BB/MA 10 DE 29
The best before date codes are located on the top left hand corner of the package. The affected product has been distributed nationally. Ochratoxin A is a mycotoxin produced by some fungi that can grow in certain food crops such as grains, grapes and coffee beans. Ochratoxin A has been classified by the International Agency for Research on Cancer (IARC) as a possible human carcinogen. If you have the products bearing the identified product code in your home, they should not be consumed in order to minimize your child's exposure. However, if your children have already consumed this food, then there is no need for other actions since even the highest levels of ochratoxin A found in these products are not high enough to pose a health risk when consumed as part of a normal diet over the short term. The manufacturer, Heinz Canada, North York, ON, is voluntarily recalling the affected product from the marketplace. The CFIA is monitoring the effectiveness of the recall.
The information posted is from secondary sources. We cannot take responsibility for the accuracy of the information.
Copyright © kashrut.com. Permission is granted to reprint these alerts in hardcopy print media if kashrut.com is credited as the source of the information.
כל האומר דבר בשם אומרו, מביא גאלה לעולם אבות ו"ו