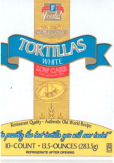 Elie Baking Corp. dba Near East Baking Corporation, 204 N Montello St,, Brockton, Massachusetts is recalling the following:
Food City brand, Low Carb Tortilla White, 13.5 oz, 10 count. UPC 0 87848 42002 0
Food City brand, Low Carb Tortilla Whole Wheat, 13.5 oz.10 count. UPC 0 87848 42003 0 MFG Date 07/21/10 & MFG Date 07/22/10 stamped on the top left of the bag.
The products may contain undeclared soy. The products were distributed in K-VA-T Food Stores, Inc. d/b/a Food City retail stores, in the following states: KY, VA, and TN.
Consumers who have purchased Food City low Carb Tortilla White & whole wheat 10 ct are urged to return them to the place of purchase for a full refund. Consumers with questions may contact the company by E- mail:
dianag@neareastbakery.com
or call collect 508 584 4890. Monday through Friday from 9:00 am to 5:00 pm.