The following kashrus advisory is from the OU on November 22, 2010.
This is an advisory with respect to Brunswick® and Beach Cliff® brand sardines. We have received a number of consumer contacts noting the presence of "shrimp" in these sardines. We have discussed this with the manufacturer who has informed us that this is actually krill, a small shrimp-like crustacean, which is a common source of feed for sardines. Krill is normally digested prior to processing and should not be found in a finished product, even one which contains the stomach. This year, many factors (e.g., size of fish, warmer water temperatures, methods of fishing, etc.) combined to create a very unusual fishing year and an increase in sardines containing krill in their stomachs. The manufacturer emphatically confirms this issue is not one of quality, species substitution or adulteration of any sort: rather an unexpected and previously unforeseen occurrence, which now requires our attention.
In response to the issues faced this year and concerns voiced by the OU, the manufacturer is implementing new fish inspection processes to ensure that future productions of Brunswick® sardines do not contain whole krill. Also, the OU label will be removed from the Beach Cliff® brand so that fish that may contain whole krill can continue to be utilized and sold to consumers without dietary restrictions.
The manufacturer is offering coupons for replacement product to consumers who purchased Brunswick® or Beach Cliff® sardines containing krill with the following Best By dates:
Brunswick® Oil Products with Best By codes between June 2015 and November 2015.
Brunswick® Water and Sauce Packs with Best By codes between June 2013 and November 2013.
Beach Cliff® Products with any Best By code starting June 2013 and thereafter that bears an OU code on the label
To receive your coupons, simply send your name, address and description of product to Brunswick Refund, P.O. Box 23220, San Diego, CA 92193. We would ask that you consider donating any existing product to canned food drives serving families without dietary restrictions.
---
The following kashrus alert is from a reader's question and consultation with the OU and Bumble Bee on September 22, 2010 with additional information on November 8, 2010.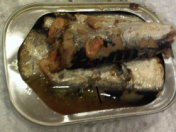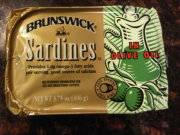 A reader reported finding krill, a small crustacean similar in appearance to a small shrimp in some cans of Brunswick Sardines in Olive Oil. The product code of the cans in question is 0215CB Best by Aug 2015. Sardines are a small herring and are a natural seafood product. The main components of the herring diet are krill and other zooplankton present in the ocean in which it lives. Due to the feeding habits of the fish, krill may occasionally be present in a tin of sardines. Krill in the stomachs can bust out and appear in the can. This is a very rare occurrence. Bumble Bee reported that consumers reported approximately 20 incidences in over 20 million cans.
Ed. note If you see this, do not eat the sardines and report the problem to the the OU and to Bumblee Bee at http://www.bumblebee.com/Contact/?pg=intro or 858-715-4000, 800-814-8460. Please inform them of all production and date codes on the product and to request a refund.