K A S H R U T . C O M©
The Premier Kosher Information Source on the Internet
---
HOME | PASSOVER | CONSUMER | COMMERCIAL | TRAVEL | ZEMANIM | LINKS | ARTICLES | RECIPES | HUMOR | E-MAIL LIST

---
Consumer Kashrut Alerts
The following health alert alert is from Processingmagazine.com McNeil on November 23, 2010.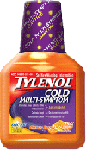 McNeil Consumer Healthcare, Division of McNEIL-PPC, Inc., is recalling, from the wholesale and retail level, three TYLENOL® Cold Multi-Symptom liquid products in order to update the labeling for these products. The specific products involved, listed below, are sold in the United States. This is a wholesale and retail level recall and is not being undertaken on the basis of adverse events. No action is required by consumers or healthcare providers and consumers can continue to use the product. McNeil Consumer Healthcare initiated the recall after an internal review revealed that information about the presence of alcohol from flavoring agents was noted as an inactive ingredient listed on the package, but not on the front panel of the product. Certain flavoring agents contribute small (<1%) amounts of alcohol. The NDC codes for the recalled products can be found on the product front panel. Product Description:
TYLENOL® COLD MULTI-SYMPTOM DAYTIME 8 OZ CITRUS BURST™ LIQUID NDC Code # 50580-257-08 UPC # 300450257086
TYLENOL® COLD MULTI-SYMPTOM SEVERE 8 OZ COOL BURST® LIQUID NDC Code # 50580-351-08 UPC # 300450521088
TYLENOL® COLD MULTI-SYMPTOM NIGHTTIME 8 OZ COOL BURST® LIQUID NDC Code # 50580-269-08 UPC # 300450269089
Consumers with questions should call the McNeil Consumer Care Center at 1-888-222-6036 (available Monday-Friday from 8 a.m. - 8 p.m. ET and Saturday - Sunday, 9 a.m. - 5 p.m. Eastern Time.)
The information posted is from secondary sources. We cannot take responsibility for the accuracy of the information.
Copyright © kashrut.com. Permission is granted to reprint these alerts in hardcopy print media if kashrut.com is credited as the source of the information.
כל האומר דבר בשם אומרו, מביא גאלה לעולם אבות ו"ו