The following kashrus alert is from the OU on February 1, 2011.
Better Made Corn Pops - 8 ounce: This product which is available in OH and MI is labeled with an OU, however, it contains non-certified ingredients. It is being recalled, and corrective measures are being implemented.
---
The following kashrus and milk allergy alert is from the FDA (1/21/2011) and the OU (1/24/2011).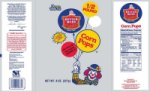 Pretzels, Inc., Bluffton, IN is recalling Better Made brand Corn Pops label with an expiration code of MAR1411. The UPC code on the package is 041633-003716. The recalled Corn Pops were distributed to retail stores in MI and OH.
The recall was initiated after it was discovered that the milk-containing product was distributed in packaging that did not reveal the presence of milk. Subsequent investigation indicates the problem was caused by a temporary breakdown of the company's production and packaging processes.
Consumers who have purchased 8 ounce packages of Better Made Corn Pops are urged to return them to the place of purchase for a full refund. Consumers with questions may contact Pretzels, Inc. at 1- 800-456-4838 between the hours of 8:00 a.m. and 5:00 p.m., Monday through Friday.