The following information is from Savor-The Food Agency on June 8, 2011.
A voluntary recall of Nielsen-Massey Vanillas' Madagascar Bourbon Pure Vanilla Bean Paste has been found to be based on a false-positive Lysteria reading reported by the company's outside testing laboratory. No Lysteria was found by the FDA or another outside laboratory.
---
The following health alert is from the FDA on May 19, 2011.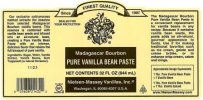 Nielsen-Massey Vanillas, Inc., Waukegan, Illinois is voluntarily recalling lot no. 11123 of its Nielsen-Massey Madagascar Bourbon Pure Vanilla Bean Paste because it has the potential to be contaminated with Listeria monocytogenes. This recall extends nationally to all states of the United States and outside the United States in Canada. This recall extends to all levels of distribution, including the retail level.
The recalled product was offered in translucent plastic one-gallon- and one-quart-size containers under the name Nielsen-Massey Madagascar Bourbon Pure Vanilla Bean Paste, lot no. 11123, through a variety of distribution channels including direct delivery to business customers, distributors, and retail sales. This recall does not affect Nielsen-Massey's other products.
Customers who purchased any of the affected lot number have been urged to remove the product from sale, cease distribution, and return the product to Nielsen-Massey for a full refund or credit. Customers with questions may contact Nielsen-Massey at 800.525.PURE (7873) or 847.578.1550, Monday through Friday, 9:00 AM until 4:00 PM Central Daylight Time.