The following health alert is from the FDA on September 29, 2011.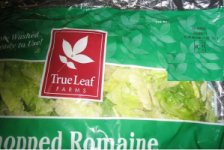 True Leaf Farms is expanding its voluntary recall of romaine to include 2,498 cartons of chopped or shredded romaine because of the potential of contamination with Listeria monocytogenes. The initial recalled product was shipped between September 12 and 13 to a retail food service distributor in Oregon who further distributed it to at least two additional states, Washington and Idaho.
At the request of the US Food and Drug Administration the recall notification is expanded to cover additional product shipped to wholesale food service distributors in 19 states and Alberta, Canada. The states include Alaska, Alabama, Arizona, California, Colorado, Connecticut, Florida, Illinois, Kentucky, Maryland, Minnesota, Missouri, Nevada, New York, Ohio, Oregon, Pennsylvania, Tennessee and Vermont. All the romaine affected by this recall has a "use by date" of 9/29/11.
The only outlet where the romaine was available for direct consumer purchase was at Unified Grocers, Inc. Cash & Carry Smart Food Service stores in Oregon, Washington, and Idaho. The product at those outlets was packed in True Leaf Farms cardboard cartons. All bags carry a "use by date" of 9/29/11. This product was labeled as follows: 2# bags, chopped romaine- Bag and box code B256-46438-8.
Consumers with questions or who need information may call Church Brothers, LLC, the sales agent for True Leaf Farms, at 1-800-799-9475, or may visit www.churchbrothers.com for updates.