The following wheat allergy alert is from the FDA on October 27, 2011.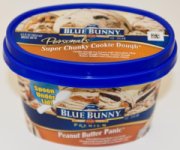 Wells Enterprises, Inc., Le Mars, Iowa voluntarily recalling a limited number of packages of its Blue Bunny® Personals® ice cream 5.5 fl oz. Personals cartons, with Lot Number 10009 "Best Used By" date 10/1/2012, - UPC 0 70640 00463. The lot number and UPC can be found printed on the side of the carton.. because it was mispackaged and contains undeclared wheat. On a limited number of packages, the lid describes the product as Blue Bunny Super Chunky Cookie Dough ice cream, and the carton portion of the package describes the product as Blue Bunny Peanut Butter Panic ice cream. The product inside the carton is Super Chunky Cookie Dough. The ingredient statement on the carton does not declare wheat, which is an ingredient in the Super Chunky Cookie Dough product. The affected product was shipped to the following states: KS, MN, MS, MO, IQ, OK, NE, ND, TN, FL, WI, OR, PA, IN, MA, and TX.
Consumers who have purchased the recalled products should return them to the store where they were purchased for a full refund. Anyone requiring more information should contact Wells consumer affairs at 1-800-331-0830 between the hours of 8am and 5pm CST Monday-Friday.