The following food recall is from the NYC dept of health and mental hygiene on November 9, 2011.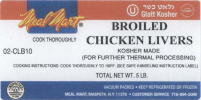 The New York City Health Department has identified 56 cases of Salmonella bacteria-related illness in New York City that are linked to eating MealMart brand kosher broiled chicken livers from the Schreiber Processing Corporation that were not cooked. Even though they are labeled as "broiled" and may appear cooked, chicken livers from this manufacturer are not thoroughly cooked and should not be eaten unless they are cooked to an internal temperature of 165 degrees Fahrenheit. Salmonella illness has also been linked to chopped liver made from this uncooked product. Chopped liver made by the consumer after purchasing this product should also be fully cooked before consuming or discarded. Cases of illness have also been identified in NJ, PA, MD, and MN.
MealMart has issued a recall of this product and is cooperating with the Health Department's investigation. The New York State Departments of Agriculture and Markets and Health, the U.S. Centers for Disease Control and the U.S. Department of Agriculture's Food Safety and Inspection Service have collaborated with the NYC Health Department to identify cases of illness associated with this Salmonella Heidelberg strain, a common bacteria associated with food poisoning in humans. The Health Department recognized a pattern of people reporting that they ate kosher broiled chicken livers or chopped liver before their illness began and this past week confirmed that the cases of Salmonella Heidelberg identified during the period of February through November 2011 had a common DNA "fingerprint." Of the 56 people who were diagnosed with infection from this Salmonella strain, 12 were hospitalized. This Salmonella strain has been found in samples of kosher broiled chicken livers and in samples of chopped liver made from the same broiled chicken liver produced by MealMart Company in Maspeth, N.Y. Though consumers reported that they believed the product to be fully cooked, it is not safe to eat without additional cooking.
In stores, "broiled chicken livers" are often re-packaged and sold in smaller quantities or are used to prepare chopped liver sold at deli-style establishments. Retail stores and other establishments in the following communities may have either re-packaged this product or used it to prepare chopped liver that was sold to customers:
| | |
| --- | --- |
| New York: | Bronx, Brooklyn, Cedarhurst, Far Rockaway, Ferndale, Flushing, Kew Gardens, Lawrence, Loch Sheldrake, Monsey, New York (Manhattan), Ocean Side, Parksville, Roslyn Heights, Schenectady, South Fallsberg, Suffern, Wesley Hills, Woodridge |
| New Jersey: | Elizabeth, Englewood, Freehold, Highland Park, Howell, Lakewood, Moonachie, Passaic, Paterson, Teaneck |
| Pennsylvania: | Mckeesrocks, Philadelphia |
| Maryland: | Baltimore |
| Minnesota: | New Hope |

For specific retailers that sell these products and other establishments associated with this outbreak within these communities, visit the Salmonella outbreak link on the NYC Health Department's website
---
The following food recall is from the USDA on November 9, 2011.
Schreiber Processing Corporation, Maspeth, N.Y. is recalling an undetermined amount of broiled chicken liver products that are linked to a cluster of Salmonellosis illnesses. The illnesses are linked to the consumption of broiled chicken livers which appear to be ready-to-eat, but are in fact partially cooked and need to be fully cooked before consumption. Illnesses are also linked to chopped liver made from this product at retail stores. The outbreak strain of Salmonella Heidelberg was isolated by the New York State Department of Agriculture and Markets from samples of broiled chicken livers from the establishment, and chopped chicken livers produced at retail from these livers. These products would have been repackaged and will not bear the original packaging information. The products subject to recall include: [View Labels (PDF Only)] 10 lb. boxes with two, 5 lb. bags of "Meal Mart Broiled Chicken Liver; Made for Further Thermal Processing" 10 lb. boxes of loose packed "Chicken Liver Broiled" Each bag or box bears the establishment number "P-787" inside the USDA mark of inspection. The product was distributed to retail stores and institutional users in MD, MN, NJ, NY, PA, FL, OH, RI. When available, the retail distribution list(s) will be posted on the FSIS website at: http://www.fsis.usda.gov/PDF/RC_090-2011_Retail_List.pdf.