K A S H R U T . C O M©
The Premier Kosher Information Source on the Internet
---
HOME | PASSOVER | CONSUMER | COMMERCIAL | TRAVEL | ZEMANIM | LINKS | ARTICLES | RECIPES | HUMOR | E-MAIL LIST

---
Consumer Kashrut Alerts
The following Canadian kashrus alert is from the COR dated November 7, 2011.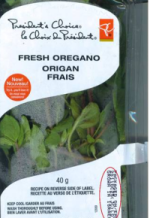 Please be advised that President's Choice (PC) is now packaging fresh herbs grown in Israel. The consumer may not immediately notice that they are grown in Israel due to way the information is presented on the side of the package. These herbs are subject to the laws of Terumos and Maaseros such that Terumos and Maaseros must be taken before they may be consumed. For instructions on how to separate Terumos and Maaseros, see www.kashrut.com/consumer/vegetables/#TITHING.
From the COR: "Please note: We encourage the support of Eretz Yisroel and the purchase of its many products. However, at the same time we must ensure the kashrus of each such product."
The information posted is from secondary sources. We cannot take responsibility for the accuracy of the information.
Copyright © kashrut.com. Permission is granted to reprint these alerts in hardcopy print media if kashrut.com is credited as the source of the information.
כל האומר דבר בשם אומרו, מביא גאלה לעולם אבות ו"ו