The following health alert is from the FDA on November 18, 2011.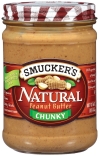 The J.M. Smucker Company today announced a limited voluntary recall on two specific Best-If-Used-By dates of 16 oz. Smucker's® Natural Peanut Butter Chunky because it may be contaminated with Salmonella. This product was distributed in: Arkansas, Colorado, Delaware, Illinois, Indiana, Iowa, Kansas, Kentucky, Maine, Maryland, Michigan, Minnesota, Missouri, Nebraska, New Jersey, New York, North Dakota, Ohio, Oklahoma, Pennsylvania, South Dakota, Texas, Virginia, Wisconsin, and the District of Columbia. The affected product, which is packaged in 16 oz. jars, is as follows:
UPC: 5150001701 (located on the side of the jar's label below the bar code)
Production Codes: 1307004 and 1308004
Best-If-Used-By dates: August 3, 2012 and August 4, 2012
Chunky product only (not creamy)
Impacted product would have been purchased between November 8 - 17, 2011
No other products of The J.M. Smucker Company are affected by this recall.
Consumers who have purchased Smucker's Natural Peanut Butter Chunky with the above Production Code and Best-If-Used-By dates are urged to discard the product immediately and call the company at 1-888-550-9555 for a replacement coupon. The company may require proof of purchase. Consumers with questions can contact the company to speak to a customer service representative at 1-888-550-9555 between Monday through Friday from 9:00 AM - 7:00 PM.