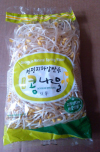 The Virginia Department of Agriculture and Consumer Services (VDACS) announced today that Henry's Farm Inc., Woodford, VA is recalling all packages of Soybean Sprouts because they may be contaminated with Listeria monocytogenes.
The following products are being recalled by the firm.
All clear plastic packages containing 1.5 lbs. Grown in Natural Spring Water Soybean Sprouts. The packages were not coded.
All bulk (approximately 10 lbs.) plastic bags of Soybean Sprouts. The packages were neither coded nor labeled.
These items were distributed to retail stores in VA, MD and Washington D.C.
The contamination was discovered after sampling by VDACS Food Safety and Security Program. Subsequent analysis by the Virginia Division of Consolidated Laboratory Services revealed the presence of Listeria monocytogenes in the products. No illness has been reported to date.
Individuals who purchased Soybean Sprouts distributed by Henry's Farm should return the product to the place of sale for a full refund. Consumers with questions may contact Mr. Soo Park at Henry's Farm Inc. at 301.802.2996.