-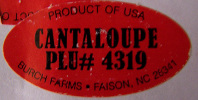 Burch Equipment LLC, North Carolina, is expanding its recall to include all of this growing season's cantaloupes and honeydew melons that may remain on the market because they may possibly be contaminated with Listeria monocytogenes.
The whole cantaloupes are identified by a red label reading Burch Farms referencing PLU # 4319. All cantaloupes involved in the recall were grown by Burch Farms, however some of the cantaloupes may have been identified with a "Cottle Strawberry, Inc." sticker referencing PLU #4319 (note: Cottle Strawberry, Inc. did not grow or process the cantaloupe involved in this recall). Cantaloupes from Burch Farms were shipped in both corrugated boxes (9 cantaloupe per case) and in bulk bins.
Honeydew melons involved in this recall expansion do not bear any identifying stickers and were packed in cartons labeled melons.
Consumers who may have purchased these honeydew melons should contact the store where they purchased their melons, for information about whether those melons are part of this recall. The cantaloupes and honeydew melons involved in this expanded recall were sold to distributors between June 23rd and July 27th, in the following states: FL, GA, IL, KY, MA, MD, ME, MI, NC, NH, NJ, NY, OH, PA, SC, and VA, VT and WV. The melons may have further been distributed to retail stores, restaurants and food service facilities in other states.
Questions can be directed to Burch Equipment LLC at 910-267-5781 Monday through Friday, (9:00am to 4:00pm) or email burch@intrstar.net.