K A S H R U T . C O M©
The Premier Kosher Information Source on the Internet
---
HOME | PASSOVER | CONSUMER | COMMERCIAL | TRAVEL | ZEMANIM | LINKS | ARTICLES | RECIPES | HUMOR | E-MAIL LIST

---
Consumer Kashrut Alerts
The following dairy allergy alert is from the FDA on August 31, 2012.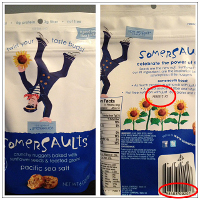 Somersault Snack Co., LLC, in cooperation with the U.S. Food and Drug Administration (FDA) is voluntarily recalling a limited number of packages of Somersaults Pacific Sea Salt 6oz. that were inadvertently mispackaged —limited quantities of Somersaults Santa Fe Salsa flavored product were inadvertently commingled with Somersaults Pacific Sea Salt flavored product in packages labeled as Somersaults Pacific Sea Salt 6oz. The inadvertent commingling of these two products introduced another allergen (milk) to the Somersaults Pacific Sea Salt 6oz. packages, and that allergen (milk) is not listed on the packaging as either an ingredient or an allergen.

Somersaults Pacific Sea Salt 6oz.
Sell By Date: MAR1113 G6 / UPC Product Code: 8-98403-00201-7
(Sell By Date is located on the back of the package, in the middle, above the sunflower graphics,
and the UPC Product Code is located below the UPC bar code.)

Somersault Snack Co. will work with retail customers to ensure that the recalled products are removed from store shelves. In the event that consumers believe they have purchased products affected by this voluntary recall, they should return the product to the store where it was purchased for a full refund. Consumers or customers with questions may call 415-275-1247 for more information.
The information posted is from secondary sources. We cannot take responsibility for the accuracy of the information.
Copyright © kashrut.com. Permission is granted to reprint these alerts in hardcopy print media if kashrut.com is credited as the source of the information.
כל האומר דבר בשם אומרו, מביא גאלה לעולם אבות ו"ו