The Food and Drug Administration says it has found salmonella in a New Mexico plant that produces nut butters for national retailer Trader Joe's and several other grocery chains. The Trader Joe's peanut butter is now linked to 35 salmonella illnesses in 19 states.
The FDA said Friday that Washington state health officials have also confirmed the presence of salmonella in a jar of the Trader Joe's peanut butter found in a victim's home.
Sunland Inc. has expanded its recall to include all products manufactured in the plant in the last two and a half years, since March 2010. Whole Foods Market, Target, Safeway and many other national chains have used Sunland products in their own brands.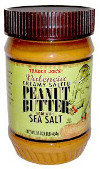 Sunland, Inc. today announced a voluntary limited recall of its Almond Butter and Peanut Butter products, manufactured between May 1, 2012 and September 24, 2012, because these products may be contaminated with Salmonella.
The voluntary recall was initiated after learning that between June 11, 2012 and September 2, 2012, twenty-nine people reported Salmonella Bredeney PFGE matching illnesses in approximately 18 states, including Washington, California, Arizona, Texas, Louisiana, Missouri, Illinois, Minnesota, Michigan, Pennsylvania, Massachusetts, New York, Rhode Island, North Carolina, Virginia, Connecticut, New Jersey and Maryland, according to a report issued on September 22, 2012 by the Centers for Disease Control and Prevention (CDC).
The products were distributed nationally to numerous large supermarket chains.
Complete list at www.sunlandinc.com/788/html/pdfs/SunlandRecall.pdf.
Consumers who have purchased Sunland's Almond Butter, Peanut Butter, Cashew Butter, Tahini and Roasted Blanched peanut products with the above UPC and Best-If-Used-By-Dates are urged to discard the product immediately. Consumers can contact the company at 1-866-837-1018, which is operational 24 hours a day, for information on the recall. In addition, a consumer services representative is available Monday through Friday between the hours of 8:00 AM and 5:00 PM MT at (575) 356-6638.
---
The following health alert is from the FDA on September 22, 2012.
Trader Joe's is voluntarily recalling its Creamy Salted Valencia Peanut Butter because of potential contamination with Salmonella. In advance of this recall, Trader Joe's removed the product from all store shelves.
The recalled Creamy Salted Valencia Peanut Butter was distributed to Trader Joe's stores nationwide. The product comes in a 16 ounce, plastic jar with an expiration date of stamped below the lid. All code dates are included in this recall.
Customers who have purchased this item are urged to not eat the product, and to dispose of it or return it to any Trader Joe's for a full refund. Customers with questions may contact Trader Joe's Customer Relations at (626) 599-3817.