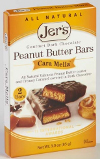 Jer's™ Chocolates announced today that it has taken the precautionary measure of issuing a voluntary limited recall of some of its Gourmet Peanut Butter Bars and Gourmet Jer's Squares produced from July 9, 2012 to September 24, 2012.
The voluntary recall was initiated upon learning that SUNLAND, Inc., the supplier of the peanut butter used in the production of Jer's™ Chocolates, has recalled all peanut butter product from May 1, 2012 - September 24, 2012 because of potential contamination with Salmonella.
For more specific information regarding the SUNLAND recall, please visit the manufacturer's website by viewing SunlandRecall.pdf1.
SUNLAND, Inc. has stated that twenty-nine people have reported Salmonella Bredeney PFGE matching illnesses in approximately 18 states. These illnesses were associated with Almond Butter, Peanut Butter, Cashew Butter, Tahini and Roasted Blanched Peanut Products produced by Sunland, Inc.
Jer's™ Gourmet Peanut Butter Bars and Jer's™ Squares HAVE NOT been associated with any of the reported illnesses and ALL of Jer's Chocolates products have passed its internal quality control tests and procedures.
All other products, including Jer's Chocolates Gift Boxes and Peanut Brittle Bites from the California plant, are not affected by the voluntary recall. Customers who have purchased these items are urged not to eat the products, and to dispose of them or return them to the retailer for a full refund.
Items Recalled are specific lot numbers Jer's Squares 4oz and 16oz Gable Boxes and 3oz Peanut Butter Bars that were distributed from July 9, 2012 through September 24, 2012.
Please call Monday – Friday 8:30am – 5:00pm Pacific Time with any questions. (858) 792-2287.