The following information is from the foodsafetynews.com on Oct. 9, 2012.
After calling nearly 250,000 customers last week to tell them the smoked salmon they had purchased was being recalled for potential Salmonella contamination, Costco has released the Kirkland Signature Norwegian Smoked back onto the market, and has been informed by health officials that no U.S. illnesses are linked to either product.
Kirkland Signature was one of two brands under which the recalled salmon, produced by Netherlands -based Foppen, was sold. This brand of smoked salmon was manufactured at a Dutch plant, while the other brand – sold under the brand name Foppen – was processed at the company's plant in Greece. The Foppen salmon is not being cleared, according to Wilson, because smoked salmon from the Greek plant has been linked to over 200 Salmonella illnesses in the Netherlands.
The following health alert is from the foodpoisoningbulletin.com on Oct. 5, 2012.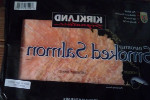 Costco Wholesale has issued a recall for Kirkland Signature and Foppen smoked salmon for possible Salmonella contamination. The fish is linked to a Salmonella Thompson outbreak in the Netherlands, according to the National Institute for Public Health and the Environment. Almost 250,000 customers in the U.S. have purchased the salmon in the last month.
The Foppen brand fish was made by Foppen at a plant in Greece. The Kirkland brand fish was made at a plant in the Netherlands. Only the Foppen brand has tested positive for the bacteria. Both brands were recalled out of precaution. The brands recalled are Foppen Norwegian Smoked Salmon Slices in 12 ounce packages #7859, and Kirkland Signature Norwegian Imported Smoked Salmon 2 x 12 ounces (#7070). The shelf life of the salmon is 26 days, so the company has notified anyone who purchased the salmon in the 26 days before the recall was issued.
A list of products that have been recalled (in Dutch) can be found at www.foppenpalingenzalm.nl/recall.