K A S H R U T . C O M©
The Premier Kosher Information Source on the Internet
---
HOME | PASSOVER | CONSUMER | COMMERCIAL | TRAVEL | ZEMANIM | LINKS | ARTICLES | RECIPES | HUMOR | E-MAIL LIST

---
Consumer Kashrut Alerts
The following British kashrus alert is from the London Beth Din dated May, 2014.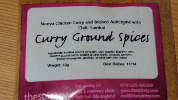 Would you have kashrut concerns about a pack of mixed Curry Spice? Coriander, Chilli, Cumin, Fennel etc – all traditional spices and non-problematic from a kashrut point of view? Now look again. The sixth ingredient listed is Belacan, made from fermented shrimp!
An important reminder that one just cannot make assumptions because a product has an "innocent" name!
The information posted is from secondary sources. We cannot take responsibility for the accuracy of the information.
Copyright © kashrut.com. Permission is granted to reprint these alerts in hardcopy print media if kashrut.com is credited as the source of the information.
כל האומר דבר בשם אומרו, מביא גאלה לעולם אבות ו"ו