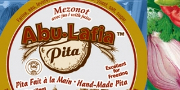 Please be advised that although Abulafia Pita products can still be found in stores with the MK registered trademark, these products are not certified by the MK. Should you see these products, please advise the MK immediately. Further action is being taken.
From the OU: Abufila Pita products are certified by the OU when bearing the OU.
---
The following kashrus alert is from the MK on August 15, 2014.
Please be advised that Abulafia pita products Is no longer certified by the MK with immediate effect.