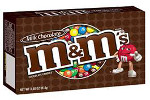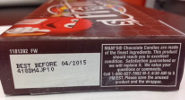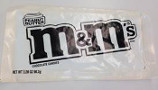 Mars Chocolate North America is recalling M & Ms due to undeclared peanuts. Mars Chocolate North America Milk Chocolate M & M's Net Wt. 3.40 oz packed in a brown, 3 inch x 6.5 inch cardboard box 12 Theater boxes per case Distributed by Mars Snackfoods US LLC., Hackettstown, NJ 07840-1503 UPC 40000294764 Code info: 417DH4JP09; 417EM4JP10; 417FM4JP09; 418AG4JP10; 418BG4JP10; 418CG4JP10; 418DM4JP09; 418EG4JP10; 419AM4JP09; 417EG4JP09; 417FG4JP09; 417FM4JP10; 418AM4JP09; 418BM4JP10 ;418CM4JP10; 418DM4JP10; 418EM4JP09; 419AM4JP10; 417EG4JP10; 417FG4JP10; 418AG4JP09; 418AM4JP10; 418CG4JP09; 418DG4JP10; 418EG4JP09; 418EM4JP10; and 419BM4JP10
This theater box item within these lot codes may contain product containing peanut butter without listing on the ingredient label on the outside cardboard box. The inside package is correctly labelled with ingredients and allergy information.
Distribted to: NC, TX, MN, IL, FL, KY, MS, AZ, GA, AI, CA NJ, PA, WA NY, CO, MO, MI, NH, CT, TN, MD, SC, OH, ME, VA, RI, WI, WV, IA, LA, OK, MA, NE, OK, AR, VT, ID and IN
Mars Chocolate will work with retail customers to ensure that the recalled product is not on store shelves. In the event that consumers believe they have purchased this item and have allergy concerns, they should return this product to the store where they purchased it for a full refund. Consumers with questions or concerns may call our toll-free number: 1-800-627-7852. This number will be operational Monday through Friday, 8:30 am to 5:00 pm (EST).