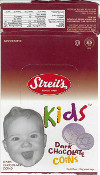 Aron Streit, Inc. of New York, NY is recalling its .5 ounce packages of "Streit's Dark Chocolate Coins" because they may contain undeclared milk allergens.
The product comes in .5 ounce mesh bags marked with Code:1814 on the label. The recalled "Streit's Dark Chocolate Coins" were imported by Streit's and distributed nationwide in retail stores.
The recall was initiated after a consumer complained of an allergic reaction. Sampling by New York State Department of Agriculture and Markets Food Inspectors and subsequent analysis by Food Laboratory personnel revealed the presence of undeclared milk allergens in the .5 ounce mesh bags of "Streit's Dark Chocolate Coins", which did not declare a milk ingredient on the label.
Consumers who have purchased .5 ounce mesh bags of "Streit's Dark Chocolate Coins" are urged to return them to the place of purchase for a full refund. Consumers with questions may contact the company at 212-475-7000.
---
The following kashrus alert is from the OU on November 19, 2014.
Streit's Kids Dark Chocolate Coins and Kids Milk Chocolate Coins, Aron Streit Inc. New York, NY: The Orthodox Union does not certify Streit's Chocolate Coins (made in Turkey). The Orthodox Union is treating these products as Non-Kosher products. Further, persons who are allergic to milk products should not rely on the OU mark to assume that the dark chocolate product is dairy free. Corrective measures are being implemented.
From the Kof-K: This product was produced without authorization by the manufacturer. Streits is recalling and destroying the product.