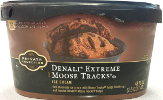 The Kroger Co. is recalling Private Selection Denali Extreme Moose Tracks Ice Cream sold in 48-ounce containers with a "sell by" date of April 16, 2015 under the following UPC Code: 11110-00456 sold in 13 states because it may contain peanuts not listed on the label.
Stores in the following states are included in this recall: Bakers stores in Nebraska; Dillons stores located in Kansas and Missouri; Gerbes stores located in Missouri; Fred Meyer stores located in Alaska, Idaho, Oregon and Washington; Food 4 Less stores located in California and Nevada; King Soopers and City Market stores located in Colorado and Wyoming; Ralphs stores located in California; Smith's stores located in Idaho, Montana, Nevada, Utah and Wyoming and QFC stores located in Oregon and Washington.
Not included in this recall are Kroger, Food 4 Less (Chicago), Fry's stores and Smith's stores located in Arizona and New Mexico.
Dillons, Fred Meyer, QFC, King Soopers, City Market, Ralphs, Food 4 Less (west coast), Bakers, Gerbes and Smith's removed items from store shelves and initiated a customer recall notification system that alerts customers who may have purchased recalled Class 1 products through register receipt tape messages and phone calls.
Customers who have questions about this recall may contact Kroger toll-free at 800-KROGERS (800-576-4377).