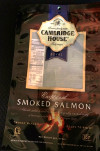 Santa Barbara Smokehouse, Santa Barbara, CA is voluntary recalling the following brands and batches of cold smoked salmon produced and packed between December 17th and December 24th 2014 because they have the potential to be contaminated with Listeria Monocytogenes,
Cambridge House Private Reserve, Cambridge House Mild, Cambridge House Mild 4oz, Cambridge House Royal, Cambridge House Royal 4oz, Cambridge House Royal Pastrami, Cambridge House Royal Lemon and Dill, Cambridge House Royal Prime Tenderloin, Cambridge House Mild Lemon Pepper, Cambridge House Balmoral, Cambridge House Balmoral 4oz, Cambridge House Gravadlax, Cambridge House Mild Citron Vodka, Coastal Harbor, Coastal Harbor Oak, Coastal Harbor Oak Beech, Coastal Harbor Beech, Coastal Harbor Oak Beech Pastrami, Coastal Harbor 1lb Trimmings, Coastal Harbor Nova, Santa Barbara Smokehouse Balmoral, Harbor Point Atlantic, Harbor Point Scottish Style, Gelsons Market Cambridge House Private Reserve, Fresh & Easy Atlantic Smoked Salmon 4oz, Fresh & Easy Scottish Smoked Atlantic Salmon 4oz, Fresh & Easy Smoked Salmon Trimmings 4oz, Channel Island Atlantic, Local Abundance 4oz, Local Abundance Norwegian, Local Abundance unsliced, Gordon Foods Private Reserve Wild.
Batch numbers found on the rear of the package: 200, 596, 4261, 5042, 5251, 5264, 5609, 5699, 5731, 5761, 5792, 5904, 5924, 5934, 5969, 5979, 6012, 6029, 6042, 6054, 6061, 6072, 6082, 6175, 6194, 6204, 6214, 6285, 6304, 6314, 6322, 6339, 6344, 6351, 6362, 6379, 6434, 6449, 6452, 6461, 6479, 6481, 6492, 6572, 6569, 6572, 6584, 6594, 6604, 6612, 6664, 6674, 6684.
From CDPH: the Santa Barbara Smokehouse's recalled cold-smoked salmon was packed under the Cambridge House, Channel Island Smokehouse, Coastal Harbor, Santa Barbara Smokehouse and Harbor Point brand names, and has pack dates of 8-22-14, 9-17-14 through 9-19-14, and 12-17-14 through 12-24-14. The recalled products were vacuum-packed and distributed as both fresh and frozen products. The CDPH website has a list of the specific product names and codes affected by this recall and product photos.
CDPH recommends not eating any cold-smoked salmon manufactured by Santa Barbara Smokehouse with pack dates between 8-22-14 and 12-24-14. Other brands that may have also been packed during this time frame include: Fresh & Easy, Tetsujin and Imperial House. CDPH also recommends that anyone in possession of those products with those pack dates place the product into a garbage bag and put it in the trash.
Consumers who have purchased any of the above products are urged to return the product to the place of purchase for a full refund. Consumers with questions may contact the company at 1-805-966-9796.