Andrew and Williamson Fresh Produce ("A&W") of San Diego, California is voluntarily recalling all cucumbers sold under the Limited Edition® label during the period from August 1, 2015 through September 3, 2015 because it may be contaminated with Salmonella.
A&W is currently working with health authorities to determine if, in fact, this product is the source of an outbreak of Salmonella with illnesses being reporting in as many as 27 states. In the meantime, out of an abundance of caution, the company is taking all actions necessary to prevent further consumption of potentially affected products. These actions include this voluntary recall and all harvesting and packing of cucumbers with the potential to be linked to this outbreak have been stopped until further information is known. A&W has also contacted all customers who may have received this product so that product in marketing channels can be removed.
Limited Edition® cucumbers were produced in Baja California and distributed in the states of Alaska, Arkansas, Arizona, California, Colorado, Florida, Idaho, Illinois, Kansas, Kentucky, Louisiana, Mississippi, Minnesota, Montana, New Jersey, New Mexico, Nevada, Oklahoma, Oregon, South Carolina, Texas, and Utah and reached customers through retail, food service companies, wholesalers, and brokers.
These cucumbers are shipped in a black, green, yellow, and craft colored carton which reads "Limited Edition Pole Grown Cucumbers." This variety is often referred to as a "Slicer" or "American" cucumber. It has a dark green color. It typically has a length of 7 to 10 inches and a diameter of 1.75 to 2.5 inches. In retail it is typically is sold in a bulk display without any individual packaging or plastic wrapping. In food service it is typically served as part of a salad.
According to the Centers for Disease Control, 285 cases of Salmonella Poona have been reported to date in 27 states.
Consumers who have purchased Limited Edition® brand cucumbers are urged not to consume them and to return them to the place of purchase for a full refund or to dispose of them. Consumers with questions may contact Andrew & Williamson Fresh Produce by visiting the company website at www.andrew-williamson.comdisclaimer icon or by calling the company at (844) 483-3864.
Below is were A&W sells produce, but not all may have sold the recalled cucumbers: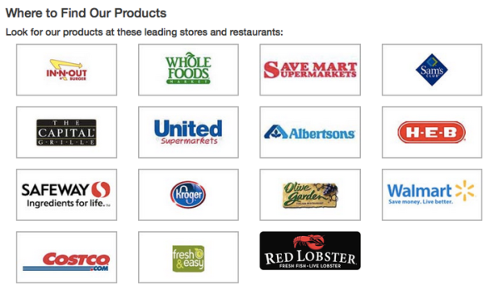 The following Canadian health alert is from the CFIA on September 6, 2015 with additional information at CFIA on Sept 8, 2015 and CFIA on September 9, 2015.
Safeway is recalling field cucumbers and various in-store produced products that contain cucumbers purchased from Safeway due to possible Salmonella contamination. Consumers should not consume the recalled products described below.
This recall applies to fresh field cucumbers sold in bulk, unwrapped and various in-store produced products that contain cucumbers, such as Greek salad, vegetable trays, sushi and sandwiches purchased from Safeway on or before September 6, 2015. Consumers who are unsure if they have purchased affected products should check with their Safeway store.
Recalled products
Brand Name
Common Name
Size
Code(s) on Product
UPC
None
Field cucumbers (bulk, unwrapped)
Variable
Purchased from Safeway on or before September 6, 2015

PLU 4062

Safeway
Various in-store produced products that contain cucumbers (Greek salad, vegetable trays, sushi and sandwiches)
Variable
Purchased from Safeway on or before September 6, 2015
Various
Various
Any in-store produced products that contain field cucumbers
Variable
Purchased from the listed retail stores on or before September 8, 2015
Various
None
Field cucumbers
(bulk, unwrapped)
Variable
Purchased from Save On Foods, PriceSmart Foods, Coopers Foods, Overwaitea, and Freson Brothers on or before September 4, 2015
PLU 4062