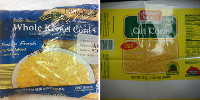 One code of Wylwood brand Frozen Whole Kernel Corn was found to be contaminated with Listeria monocytogenes based on sampling and analysis by the State of Tennessee. Bonduelle USA Inc, Brockport, NY decided to recall other labels and codes produced the same day as the suspect lot as a precaution.
Frozen Corn distributed under the following labels and sizes: (a) WYLWOOD Super Sweet Whole Kernel Corn, NET WT. 16 OZ (1 LB), UPC 051933002401, DISTR. BY: SAVE-A-LOT FOOD STORES LTD. EARTH CITY, MO 63045; (b) MARKET BASKET Cut Corn, NET WT. 16 OZ. (1 LB.), UPC 049705693414, Packed Exclusively for: DEMOULAS SUPERMARKETS, INC. Tewksbury, MA 01876; (c) Bountiful Harvest WHOLE KERNEL CUT CORN, NET WT. 40 OZ. (2.5 LBS.), UPC 822486120597, Marketed by: Independent Marketing Alliance Houston, TX 77079; (d) WEST CREEK FROZEN VEGETABLES Cut Corn, NET WT. 2.5 LBS., UPC 00806795285239. --- The product is packed in poly bags.
Codes: (a) Best By June 2017 K51564 and K51574; (b) Best By June 2017 K51574; (c) Best By June 2017 K51574; (d) Best By June 2017 K51574
Distribution Pattern: New York, New Jersey, Pennsylvania, Vermont, Massachusetts, Indiana, Ohio, Kentucky, Maryland, Virginia, North Carolina, Florida, Mississippi and Louisiana.