K A S H R U T . C O M©
The Premier Kosher Information Source on the Internet
---
HOME | PASSOVER | CONSUMER | COMMERCIAL | TRAVEL | ZEMANIM | LINKS | ARTICLES | RECIPES | HUMOR | E-MAIL LIST

---
Consumer Kashrut Alerts
Pas Yisroel and Yoshon information on some Trader Joe's Baked Products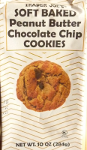 December 9, 2019 from Yoshon.com and confirmed by the OK:
Trader Joe's Soft Baked Peanut Butter Chocolate Chip Cookies under the OK are yoshon.
December 6, 2019 from the COR Detroit:
Trader Joe's Chocolate Brooklyn Babka And Trader Joe's Half Moon Cookies bearing OU Pareve are still Pas Yisroel, but are no longer Yoshon
October 6, 2019 from the OU August, 2019 OU Pas Yisroel List – 5780
The Following Trader Joe's products are Pas Yisroel: Chocolate Babka, Mango Babka, Pumpkin Spice Babka, Half Moon Cookies, Raspberry Rugelach
September 26, 2016 reissued August 27, 2018 - from the COR Detroit, reissued September 23, 2019:

TRADER JOE'S new HALF MOON COOKIES, and TRADER JOE'S CHOCOLATE BROOKLYN BABKA and MANGO BROOKLYN BABKA, bearing OU Pareve, are Pas Yisroel and Yoshon.
The information posted is from secondary sources. We cannot take responsibility for the accuracy of the information.
Copyright © kashrut.com. Permission is granted to reprint these alerts in hardcopy print media if kashrut.com is credited as the source of the information.
כל האומר דבר בשם אומרו, מביא גאלה לעולם אבות ו"ו