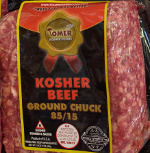 October 14, 2016 from the Chicago Rabbinical Council, Kosher Miami and COR Detroit:
From COR Detroit: "Costco has introduced a new line of meat from Tomer Kosher Foods which is certified by Triangle K and Rabbi Elimelech Lebowitz. Please note that this meat is non-glatt and is not recommended. (Although Rabbi Lebowitz's symbol resembles that of Rabbis Kook and Rubin of Israel, there is no relationship.)"
From Kosher Miami: "Furthermore, it has been reported to Kosher Miami that in the local Costco store in North Miami, the meat is displayed right next to the Solomon's Glatt Kosher meat, and it is very easy to confuse the two products."
Ed. note: Costco customers who miss the glatt ground beef, should fill out the consumer response form at their local store and let them know.
October 16, 2016 - From the cRc: Non-Glatt Meat
The cRc recently sent out an alert about Tomer Kosher Meats being sold at Costco which was meant to alert the consumer that Costco has now begun selling non-glatt meat and that consumers should be conscientious when shopping. It was not meant as a recommendation of said product for those that consume non-glatt meat.