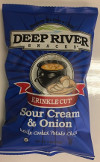 Chips recalled for Salmonella in powdered milk seasoning
December 12, 2016: The FoodSafetyNews and PR Newswire: :
"Shearer's Foods, LLC of Massillon, OH is voluntarily recalling all products that were made with milk ingredients supplied by a secondary supplier Valley Milk Products LLC, due to possible Salmonella contamination. "
"Brands included in the Shearer's Food recall are Deep River, Delish, Larry the Cable Guy, Essential Everyday and Market Essential." A list of the recalled products can be found here.
Shearer's Foods, LLC initiated a recall after being notified on 12/7/16 by a seasoning supplier that Valley Milk Products LLC had initiated a recall of a nonfat high heat milk powder and sweet cream butter milk powder that is used in a variety of their seasonings.
Customers who purchased the recalled product should dispose of it immediately.
Consumers with questions may contact Shearer's Consumer Affairs Department toll free at 1-800-428-6843 Monday through Friday, between 9:00 a.m. and 4:00 p.m. eastern time.
December 10, 2016 - A list of the recalled products is here on the FDA website.