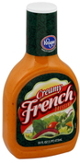 December 29, 2016 - from Kosherquest.org.
Many flavors of Kroger Salad Dressings (sold at Ralphs markets on the West Coast) are now certified Kosher under OU supervision. Check the label on each bottle of dressing for the OU symbol.
Ed. note: This alert and others about Kroger are also true for other products from stores owned by Kroger including Fred Meyer, Ralphs, Smith's Food & Drug Stores, City Market, Dillons Supermarkets, Fry's Food & Drug, King Soopers, Kwik Shop, Littman Jewelers, Loaf 'N Jug, Tom Thumb, Turkey Hill, Food 4 Less, Quik Stop, Quality Food Center (QFC), Baker's, Barclay Jewelers, Foods Co. Fred Myer Jewelers, Smith's.
One should always check each product for the kosher symbol.