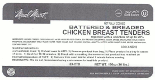 Schreiber Processing Corp. Recalls Chicken Tender Products Due to Possible Foreign Matter Contamination and Misbranding
January 9, 2017: from USDA:
Schreiber Processing Corp., a Maspeth, N.Y. establishment, is recalling approximately 2,330 pounds of chicken tender products that may be contaminated with plastic and misbranded, the U.S. Department of Agriculture's Food Safety and Inspection Service (FSIS) announced today.
The breaded chicken breast tenders were produced on December 8, 2016 and packaged on December 9, 2016. The following products are subject to recall: [View Label]
10-lb. boxes containing "Meal Mart BATTERED & BREADED CHICKEN BREAST TENDERS" bearing item code 03-CTB and production code 0246
The products subject to recall bear establishment number "P-787" inside the USDA mark of inspection. These items were shipped to institutional and retail locations in New Jersey, New York, and Washington.
The problem was discovered after the firm received a consumer complaint.
There have been no confirmed reports of injury or illness due to consumption of these products. Anyone concerned about an injury or illness should contact a healthcare provider.
Consumers who have purchased these products are urged not to consume them. These products should be thrown away or returned to the place of purchase.
Consumers and media with questions about the recall can contact Mordechai Milworn, Q&A/HAACP Manager, at (718) 894-2000 ext. 336.
From the FSIS is a list of RETAIL CONSIGNEES FOR FSIS RECALL 002-2017:
| | | | |
| --- | --- | --- | --- |
| Retailer Name | Street Address | City | State |
| Riverdale Kosher Market | 5683 Riverdale Avenue | Riverdale | NY-New York |
| Kosher World/Always Fresh | 1913 Cornaga Avenue | Far Rockaway | NY-New York |
| Mountain Fruit | 1523 Avenue M | Brooklyn | NY-New York |
| Affordable Kosher | 5980 1st Avenue South | Seattle | WA-Washington |