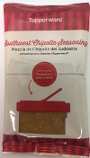 Tupperware U.S., Inc. Recalls Southwest Chipotle Seasoning Because of Possible Health Risk
January 11, 2017 - from the FDA:
Tupperware U.S., Inc. of Orlando, Florida, is voluntarily recalling limited quantities of Southwest Chipotle Seasoning, because it has the potential to be contaminated with Salmonella. The product was manufactured for Tupperware by a third party blender of fine spices and seasonings. This recall is being carried out in an abundance of caution after the FDA found traces of Salmonella at the facility where buttermilk powder, one ingredient in the seasoning mix, was manufactured.
Tupperware has not experienced any problems or complaints about this product, and no illnesses have been reported. This recall is a precautionary measure only. Anyone in possession of any of the recalled product should send it to:
Tupperware U.S., Inc.
ATTN: Julie Castro
14901 South Orange Blossom Trail
Orlando, FL 32837
The returning party should include a name, address, phone number and email address. Once the product is received, Tupperware will send, in return, a $15 eGift Certificate, per Seasoning package, to cover the cost of the product and shipping.
Please forward this message to anyone else who has purchased the Southwest Chipotle Seasoning since August 2, 2016. If you have any questions, please call Customer Care at 1-800-TUPPERWARE (1-800-887-7379).