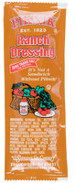 Kosher Alert Piknik Ranch Dressing
March 13, 2017 - from the OU:
Piknik Ranch Seasoning (portion pack), Supreme Oil Company, Englewood NJ is missing the D – Dairy Designation
The Orthodox Union certified Piknik Ranch Dressing as an OU D – Dairy product. This product contains dairy, as indicated in the ingredients and allergens statements. Some Ranch Dressing was packaged in small portion-packs with a plain OU, without the D – Dairy designation. Corrective actions have been implemented.