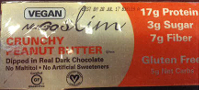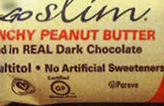 Dairy Allegy and Kashrus alert on NuGo Slim Crunchy Peanut Butter Nutrition Bar
March 20, 2017 - from the FDA:
The recall is only for Lot B16119A. No other products are affected.
Lifestyle Evolution is voluntarily recalling one shift of NuGo Slim Crunchy Peanut Butter nutrition bars. In isolated cases, a product with milk allergen was incorrectly packaged into Slim Crunchy Peanut Butter wrappers and cartons. The NuGo Slim Crunchy Peanut Butter wrapper does not list milk as an allergen.
This action relates only to NuGo Slim Crunchy Peanut Butter product with this code printed on the package:

Product: NuGo Slim
Flavor: Crunchy Peanut Butter
Manufacturing Code: B16119A
Best By Date: 28-Jul-17
Item Number Bar: 6 91535 20701 1
Item Number Box: 6 91535 20702 8
Only this specific lot code is impacted. No other Lot Codes, or any other NuGo products, are involved in this action.
Consumers who have purchased this specific lot code can return product to the store where it was purchased. Consumers may call the number listed or visit our website for instructions on what to do with the product.
For more information or assistance, please contact us at 1-888-421-2032 (Monday to Friday, 9:00am to 5pm EST) or
contact@nugonutrition.com
.