K A S H R U T . C O M©
The Premier Kosher Information Source on the Internet
---
HOME | PASSOVER | CONSUMER | COMMERCIAL | TRAVEL | ZEMANIM | LINKS | ARTICLES | RECIPES | HUMOR | E-MAIL LIST

---
Consumer Kashrut Alerts
Dallas Kashrus alerts on non-kosher fish at Tom Thumb in Dallas and Tom Thumb chips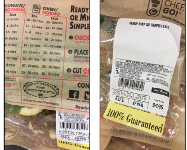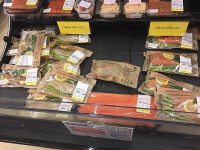 June 20, 2017: From the Dallas K:
As you can see the from the attached pictures the packages contains shrimp sold at Tom Thumb stores in Dallas. An alert customer picked up the bag and noticed a Hechsher printed on the bottom! It is from a very reliable and reputable certifying agency in London. A critical reading of the text under the logo should let you know that it is only the packaging that is kosher but not its contents! Obviously that is very misleading and the company was unauthorized to placed the symbol on the empty bags. The packaging made its way over to the United States where it was sold to a number of supermarkets. Please be aware that the shrimp in that package is not kosher! Nor is the salmon or tilapia!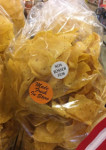 From the Dallas-K:
The Tom Thumb on Preston & Forest is selling chips (see left) that are temporarily non kosher.
The information posted is from secondary sources. We cannot take responsibility for the accuracy of the information.
Copyright © kashrut.com. Permission is granted to reprint these alerts in hardcopy print media if kashrut.com is credited as the source of the information.
כל האומר דבר בשם אומרו, מביא גאלה לעולם אבות ו"ו