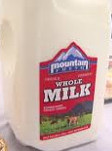 June 28, 2017 from the NY State Department of Food and Agriculture:
1% Lowfat Milk produced by Mountain Fresh Dairy, LLC, located at 145 Conklin Avenue, Binghamton, NY 13903, is being voluntarily recalled due to improper pasteurization. Proper pasteurization heats milk in order to effectively eliminate all pathogenic bacteria, such as Listeria and Salmonella.
The recalled 1% lowfat milk product was sold at three Non Profit Grocery Stores in New Jersey (NPGS).
The locations are:
2080 W. County Line Road, Jackson, NJ
231 Main Street, Lakewood, NJ
152 James Street, Lakewood, NJ
The product was sold under the name Mountain FRESH KOSHER DAIRY CHOLOV YISROEL. It was also distributed by the Community Hunger Outreach Warehouse (CHOW) in Broome County, New York. The product was packaged in a half-gallon, plastic container bearing the container code of: USE BY JUL 07 2017.
Routine monthly finished product sampling collected by the New York State Department of Agriculture and Markets Milk Control and Dairy Division and analyzed by the Department's Food Laboratory revealed that this lot of product was improperly pasteurized.