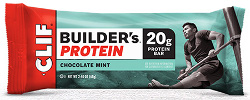 July 5, 2017: The FDA and :
Clif Bar & Company is initiating a voluntary recall of CLIF® BUILDER'S® Bar Chocolate Mint flavor, and CLIF Kid Zbar® Protein Chocolate Mint and CLIF Kid Zbar® Protein Chocolate Chip flavors due to possible presence of undeclared peanuts and some tree nuts, including almonds, Brazil nuts, cashews, hazelnuts, macadamia nuts, pecans, walnuts and coconuts.
Clif Bar discovered this issue when it received a small number of consumer complaints alleging peanut or tree nut allergic reactions. There are no confirmed illnesses associated with this recall. The voluntary recall applies to products in all pack sizes and individual bars meeting the criteria found in the attached table. The affected "Best By" dates can be found on the back of individual packaging or caddies. No other Clif Bar & Company products, pack sizes, flavors or 'Best By' date codes are affected. The company is asking consumers to return product to the store where purchased to request an exchange or full refund if there is an allergy concern. Affected product should then be discarded in a secure place and not consumed. For more information please visit here or contact 866-526-1970.
Description
Lot Code FROM
Lot Code TO
CLIF® BUILDER'S® 18-count Variety Pack Chocolate Peanut Butter and Chocolate Mint
24MAR16M
08FEB18M
CLIF Kid Zbar® Protein 30-count Variety Pack
31MAY16M
15OCT17M
CLIF® BUILDER'S® Chocolate Mint 12-count
CLIF® BUILDER'S® Chocolate Mint 6-pack
CLIF® BUILDER'S® Chocolate Mint 7-pack
CLIF® BUILDER'S® Snack Size Chocolate Mint 200-count
CLIF Kid ZBar® Protein Chocolate Chip 10-pack
CLIF Kid ZBar® Protein Chocolate Chip 150-count
CLIF Kid Zbar® Protein Chocolate Chip 5-pack
CLIF Kid Zbar® Protein Chocolate Mint 10-pack
CLIF Kid ZBar® Protein Chocolate Mint 150-count
CLIF Kid Zbar® Protein Chocolate Mint 5-pack
05APR16M3
23APR18M3
Canadian recall from the CFIA:
| Brand Name | Common Name | Size | Code(s) on Product | UPC |
| --- | --- | --- | --- | --- |
| CLIF BUILDER'S | Chocolate Mint Protein Bar | 68 g | From 2016JN19M6 to 2018MR08M6 | 7 22252 60644 0 |
| CLIF BUILDER'S | Chocolate Mint Protein Bar | 6 x 68 g | From 2016JN19M6 to 2018MR08M6 | 7 22252 60444 6 |
| CLIF BUILDER'S | Chocolate Mint Protein Bar | 12 x 68 g | From 2016JN19M6 to 2018MR08M6 | 7 22252 61644 9 |
| CLIF BUILDER'S | Protein Bars Variety Pack | 18 x 68 g | From 2016JN18M55210 to 2018FE147095 | 7 22252 61633 3 |