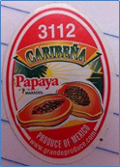 FDA Investigates Multiple Salmonella Outbreak Strains Linked to Papayas
July 25, 2017 from the FDA:
The FDA is warning consumers to avoid all Caribeña brand Maradol papayas. Grande Produce has informed the FDA that the company initiated a limited recall of their Caribeña brand Maradol papayas distributed nationwide from July 7 - July 18, 2017. As of July 25, 2017, Grande Produce has not issued a press release to notify consumers of their recall. Therefore, FDA is advising consumers to avoid all Caribeña brand Maradol papayas. The FDA also noted that there are illnesses in states where Grande Produce did not distribute papayas and is continuing its investigation.
1 dead, 46 sick: Multistate outbreak of Salmonella Kiambu linked to Maradol papayas
July 23, 2017 - from the Barfblog and the CDC:
"The U.S. Centers for Disease Control and Prevention (CDC), public health and regulatory officials in several states, and the U.S. Food and Drug Administration (FDA) are investigating a multistate outbreak of Salmonella Kiambu infections."
"A total of 47 people infected with the outbreak strain of Salmonella Kiambu have been reported from 12 states.
Twelve ill people have been hospitalized. One death has been reported from New York City.
Illnesses started on dates ranging from May 17, 2017 to June 28, 2017. Ill people range in age from less than 1 year to 95, with a median age of 27. Among ill people, 67% are female. Among 31 people with available information, 18 (58%) are of Hispanic ethnicity. Among 33 people with available information, 12 (36%) report being hospitalized. One death was reported from New York City."
CDC recommends that consumers not eat, restaurants not serve, and retailers not sell Maradol papayas until we learn more.
When in doubt, don't eat, sell, or serve them and throw them out.
Wash and sanitize countertops as well as drawers or shelves in refrigerators where papayas were stored.