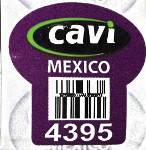 Agroson's LLC Recalls Maradol Papaya Cavi Brand Grown and Packed by Carica De Campeche Because of Possible Health Risk
August 4, 2017 from the FDA:
Agroson's LLC of Bronx, NY is recalling 2,483 boxes of Maradol Papaya Cavi Brand, grown and packed by Carica de Campeche, as a precaution because other brands that also buy from this farm have been tested positive for Salmonella.
Product was distributed to wholesalers in the following states NY, CT, and NJ, from July 16 to 19, 2017. This product was further to downstream customers, including retail consumers. The papayas were available for sale until July 31, 2017. Consumers can identify the papayas by PLU sticker, cavi MEXICO 4395.
Wholesalers can identify the product by codes found above the handle on the master carton, codes include: 3044, 3045 and 3050. The farm that grew the papayas is also listed on the upper left side of the master carton, CARICA DE CAMPHE.
No other papayas distributed by Agroson's LLC are subject to the recall.
The recall was initiated after Agroson's LLC, was notified by the FDA, on August 2, 2017, that several brands of Maradol Papaya from the farm, Carica de Campeche, had tested positive for Salmonella. None of the brands were specifically Cavi Brand, but as a precaution FDA recommended a recall of all papayas imported in the month of July from this farm.
Consumers who may have purchased the Cavi Brand Papayas are advised not to eat them and to dispose of them instead. For further questions you may reach Agroson's at (917) 801-1495. Calls will be received from Monday through Friday, 9:00 am to 4:00 pm EST.