K A S H R U T . C O M©
The Premier Kosher Information Source on the Internet
---
HOME | PASSOVER | CONSUMER | COMMERCIAL | TRAVEL | ZEMANIM | LINKS | ARTICLES | RECIPES | HUMOR | E-MAIL LIST

---
Consumer Kashrut Alerts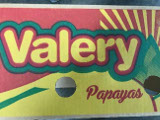 Agroson's LLC Recalls Maradol Papaya Cavi Brand Grown and Packed by Carica De Campeche Because of Possible Health Risk
August 7, 2017 from the FDA:
Freshtex Produce of Alamo, TX is voluntarily recalling "Valery" brand Maradol Papayas grown and packed by Carica de Campeche, because it has the potential to be contaminated with Salmonella.
The Maradol Papayas was distributed to the State of Illinois from July 10 to July 13, 2017. However, the product may have been further distributed outside the state of Illinois.
Consumers can identify the Fresh papayas by the "Valery" name on the box and label grown and packed by Carica de Campeche.
The recall was initiated after Freshtex Produce's LLC, was notified by the FDA, on August 4, 2017, that other brands of Maradol Papayas from the farm, Carica de Campeche, had tested positive for Salmonella. As of today no illnesses have been reported from the Valery brand of Maradol Papayas but as a precaution the FDA recommended a recall of all Maradol Papayas imported in the month July from the Carica de Campeche farm.
Freshtex Produce LLC has ceased importing papayas from the grower, Carica de Campeche, and is taking all precautionary measures to ensure the safety of its imported produce.
Consumers who may have purchased the Valery brand papayas are advised to dispose of them. Consumers with questions may contact Freshtex Produce at 956-322-4817. Calls will be received from Monday through Friday, 9:00 a.m. to 2:00 p.m. CT.
The information posted is from secondary sources. We cannot take responsibility for the accuracy of the information.
Copyright © kashrut.com. Permission is granted to reprint these alerts in hardcopy print media if kashrut.com is credited as the source of the information.
כל האומר דבר בשם אומרו, מביא גאלה לעולם אבות ו"ו