K A S H R U T . C O M©
The Premier Kosher Information Source on the Internet
---
HOME | PASSOVER | CONSUMER | COMMERCIAL | TRAVEL | ZEMANIM | LINKS | ARTICLES | RECIPES | HUMOR | E-MAIL LIST

---
Consumer Kashrut Alerts
Insect infestation alert on Greenfield Bow Tie Noodles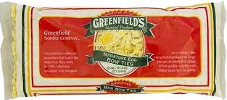 October 17, 2017 - from COR Detroit:
GREENFIELD'S BOW TIES EGG NOODLES (large, 12 oz.) with expiration date 5/05/18 has been found to contain insects in some bags, and should be inspected before use by spreading the product across a white paper plate and looking for signs of infestation. It is advisable to spot-check all pasta at this time of year, since pasta that was improperly stored in warm conditions during the summer is more liable to develop infestation. At the store, check that there is not a large amount of powder at the bottom of the package. Also shake the package and look for insects at the bottom. When cooking, check for any insects that float up to the surface of the water. If infestation is found, do not use the product.
The information posted is from secondary sources. We cannot take responsibility for the accuracy of the information.
Copyright © kashrut.com. Permission is granted to reprint these alerts in hardcopy print media if kashrut.com is credited as the source of the information.
כל האומר דבר בשם אומרו, מביא גאלה לעולם אבות ו"ו