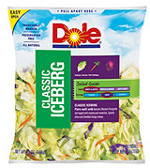 October 17, 2017 - from COR Detroit and confirmed by the Star-K:
DOLE ICEBERG SALADS AND OTHER BRANDS TEMPORARILY NOT CERTIFIED: The Star-K has advised that due to logistical issues that are preventing its Mashgichim from being able to monitor Dole Iceberg lettuce properly, it is not certifying any Dole Iceberg products at this time, and the bags therefore do not bear the Star-K symbol. The Star-K hopes to resume certification when the season changes and harvest operations move to Arizona, which will be sometime in November.
This applies to Dole Classic Iceberg, Dole Shredded Lettuce, and also to several other brands such as Fresh Selections [Kroger], Little Salad Bar [Aldi], and Marketside [Walmart], which normally bear a Star-K.
This change affects only Iceberg lettuce products. Cabbage and Coleslaw products remain certified, but only when bearing the Star-K symbol.
Fresh Express brand Iceberg Garden salad remains certified when bearing the Star-K symbol.