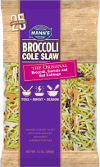 Mann Packing Recalls Minimally Processed Vegetable Products Because of Possible Health Risk
October 19, 2017 from the FDA, Foodsafetynews and CFIA in Canada.:
Mann Packing of Salinas, California is voluntarily recalling minimally processed vegetable products listed below because they may be contaminated with listeria monocytogenes.
The recalled products were distributed throughout the United States and Canada with "best if used by" dates from October 12 to October 20 listed on the front of the packaging. For recalled products distributed at retail and foodservice, product names, UPC codes and "best if used buy" dates are listed here.
The brands of fresh vegetable products included in the recall are:
Mann's
Western Family
Archer Farms
HEB
Little Salad Bar
Signature Farms
Trader Joe's
Walmart
Cross Valley Farms
Sysco Natural
Consumers who have purchased any recalled products listed below are urged not to consume them, discard them or return them to the place of purchase for a full refund. Consumers with further questions may contact Mann Packing on our 24-hour consumer line at 888-470-2681 or visit veggiesmadeeasy.com/products
October 22, 2017: List of Additional Canadian recalled products is here
List of products produced from the recalled vegetables is here.