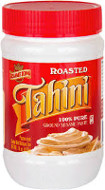 February 12, 2018 from OK Twitter feed:
Sunshine International (MA) is now OK certified. They produce Tahini products.
---
Kashrut alert on Sunshine International Foods
November 27, 2017 from the KVH Certification:
​Please be aware that KVH Certification of Sunshine International Foods also known as George's Bakery and Sesame King in Methuen, MA is DISCONTINUED on all products (even those labeled with the KVH symbol) due to Kashrus violations, as of October 4, 2017. Corrective action is being taken.