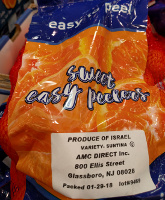 February 6, 2018 from the editor:
Israeli clementines with an OU were spotted in Costco
January 25, 2018 from the OU in response to a question from the editor:
Some Jaffa and other Israeli citrus exported by Tnuport Mehadrin are certified by the OU for teruma, maaser and orlah in closed/sealed packaging with an OU on the label.
---
January 18, 2018 from COR Detroit:
JAFFA / AMC CLEMENTINES FROM ISRAEL in 5 lb. bags are now being sold at Costco, and require taking of Terumos & Maaseros.  
Reminder- BELL PEPPERS FROM ISRAEL (red, yellow and orange) are being sold at many local stores, and require taking of Terumos and Maaseros.
December 27, 2017 from COR twitter feed:
Jaffa grapefruits and oranges from Israel are available in stores. These grapefruits are subject to the laws of terumos and maaseros (tithing).
December 27, 2017 from Kashrus Magazine:
Biologique Organic Peppers, product of Israel, at Fairways - January 01, 2018 Biologique Organic Peppers, which were produced in Israel, are being sold at Fairways and other NYC stores.
Information on tithing can be found here
COR video on tithing is linked to here