Attention sauce lovers! We are pleased to announce that VH Sauces in soft pouches will remain KOSHER under COR Kosher.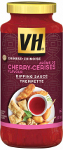 January 19, 2018 from the OK:
Please be advised that Conagra Brands has decided to remove OK kosher certification from the VH® Sauces products listed below. Any remaining products which bear the OK symbol are kosher certified.
Product Name
VH Chinese Cherry Dipping Sauce
VH Chinese Cherry Dipping Sauce
VH Chinese Garlic Hoisin Stir-Fry Sauce
VH Chinese General Tao Stir-Fry Sauce
VH Chinese Honey Garlic Cooking Sauce
VH Chinese Medium Garlic Rib Cooking Sauce
VH Chinese Mild Garlic Rib Sauce
VH Chinese Orange Ginger Stir-Fry Sauce
VH Chinese Pineapple Cooking Sauce
VH Chinese Plum Dipping Sauce
VH Chinese Reduced Sodium Soya Sauce
VH Chinese Soya Sauce
VH Chinese Strong Garlic Rib Cooking Sauce
VH Chinese Sweet & Sour Cooking Sauce
VH Chinese Sweet & Sour Dipping Sauce
VH Chinese Sweet & Sour Stir-Fry Sauce
VH Chinese Szechwan Stir-Fry Sauce
VH Indian Butter Chicken Cooking Sauce
VH Indian Mango Curry Cooking Sauce
VH Indian Tikka Masala Cooking Sauce
VH Japanese Teriyaki Cooking Sauce
VH Japanese Teriyaki Stir-Fry Sauce
VH Korean BBQ Stir-Fry Sauce
VH Thai Pad Thai Stir-Fry Sauce
VH Thai Red Curry Cooking Sauce
VH Thai Spicy Thai Chili Dipping Sauce
VH Thai Sweet Thai Chili Dipping Sauce
VH Thai Yellow Curry Cooking Sauce