K A S H R U T . C O M©
The Premier Kosher Information Source on the Internet
---
HOME | PASSOVER | CONSUMER | COMMERCIAL | TRAVEL | ZEMANIM | LINKS | ARTICLES | RECIPES | HUMOR | E-MAIL LIST

---
Consumer Kashrut Alerts
Kashrus information on WOW Air Meals departing from Tel Aviv
February 18, 2018 from the Matzav.com and Tamam:

"From there, people change to a continuing flight to the U.S. The food is provided by the TMM company which has an Israeli hechsher."
"Tamam is the world's largest kosher cuisine food producer – Kosher Certified by the Chief Rabbinate of Israel and under the supervision of Rabbi Moshe Nachshoni."
---
Kashrus alert on WOW Air Meals departing from Tel Aviv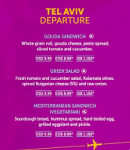 January 30, 2018 from the OK:

WOW Air, Reykjavik, Iceland has an UNAUTHORIZED USE OF OK KOSHER SYMBOL.
WOW Air is displaying an unauthorized OK kosher symbol on their menus for flights departing from Tel Aviv. These meals are NOT certified by OK Kosher Certification. Corrective actions are being taken.
The information posted is from secondary sources. We cannot take responsibility for the accuracy of the information.
Copyright © kashrut.com. Permission is granted to reprint these alerts in hardcopy print media if kashrut.com is credited as the source of the information.
כל האומר דבר בשם אומרו, מביא גאלה לעולם אבות ו"ו