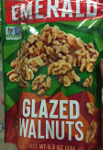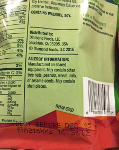 Snyder's Lance Announces Voluntary Recall of a Limited Amount of 6.5 oz Emerald® Glazed Walnuts Due to Potential Presence of Undeclared Peanuts, Almonds, Cashews and Pecans
February 21 2018 from the FDA:
Emerald® Nuts is initiating a voluntary recall for a limited amount of its 6.5oz Glazed Walnuts product, distributed nationwide, due to the potential presence of undeclared peanuts, almonds, cashews and pecans in the product.
The voluntary recall is limited to only the specific production codes listed below. To locate the production code on the package, consumers should look next to the nutrition facts panel. No other production codes, sizes or varieties of Emerald® products are affected by this recall.
Information regarding Emerald product affected by this recall:
Product Name
Package
UPC Code
Package
Production Code
Best before date
6.5oz Emerald®
Glazed Walnuts
0 1030080894 7
EN1216XX2
15 DEC 2018
Consumers who may have purchased the product listed above should not consume it but should contact Consumer Affairs for a full refund online at http://slletsconnect.com/emerald/ or by calling 800-438-1880 and selecting #1 between 8am and 5pm Pacific Time, Monday – Friday.